Whether you are looking to strengthen your HR department or your individual development, SHRM has the diagnostic tool for you.
Based on the

December 14, 2014
The Mississippi Society for Human Resource Management ("MS SHRM") and the Capital Area Human Resource Association ("CAHRA") are pleased to present a Legislative Reception on
We are pleased to annouce that several chapters have received 2013 Membership Gold Star Status from the Society for Human Resource Management.
Mississippi Legislature strengthens free choice rights for employers and employees during 2014 session
Typically, the Mississippi Legislature defers to Congr
Mississippi State Council of SHRM Receives 2013 Platinum Award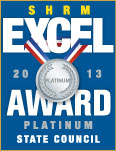 March 21, 2014
We are excited to announce that the State Council of Mississippi SHRM has been named a 2013 State Council Champion by the SHRM Foundation!
It is time to submit information for the 2014 Mississippi Human Resources Awards: Spirit of HR and Human Resource Professional of the Year.
LEGISLATIVE BULLETIN
by: Rusty Turner